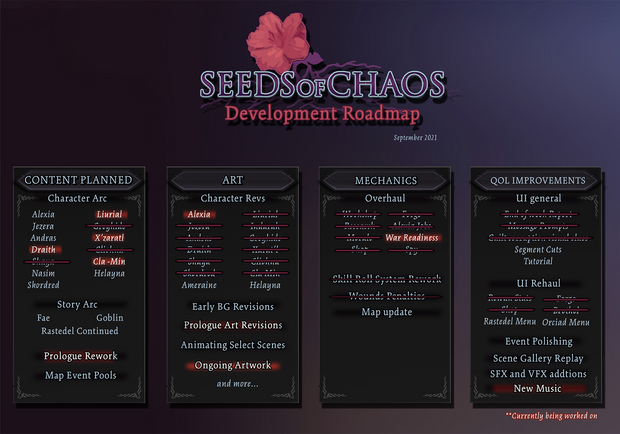 Hello all,
Development of the next release is on track for the end of the month as usual, and I don't have much to add to what we talked about last time, so what I am going to focus on today is an overview of ongoing development; both our progress since we launched on Steam, and our roadmap (as seen above) to finish the current act.
First up, our progress. To show you how things are going, I thought it would be a good idea to start with some numbers.
Since we launched on Steam last year, we have added to the game:
- Over 350,000 words of content
- Over 50 new sex scenes
- Over 500 new CGs (including variants)
On the content side, that includes the completion of the Greyhide, Cliohna, and Shaya NPC arcs, as well as significant progress on Draith and X'zaratl. In addition to the new CGs, Sommy has almost finished revising nearly all the old CGs to better suit the game's aesthetic, with only Alexia, Ameraine, and Helayna's CGs remaining.
Beyond the numbers though, we have also completely overhauled the game's core mechanics, which was a massive undertaking mid-project, with not only a number of new systems being implemented but nearly all of the game's older scenes being re-evaluated and improved to accommodate the changes. It would take all day to discuss every change we've made, so here are a few of the key ones:
New Status and Inventory screen, encompassing a new level up, skills, and wound system.
Cla-min's shop has been reimplemented with new items and new features.
Greyhide's forge has been expanded, allowing more player choice on what to do with the iron collected from mines.
Shaya's brothel has also been overhauled, allowing for a lot more options on how to use spies.

A number of quality of life improvements, including an all-new end of week report, which gives you all the important information in one place.
So that's it for today! I hope I've made you all excited about the changes we have made, and what is coming up in the near future. We are all working hard to make the best game we can, and I personally think Rein has done an excellent job with the mechanics update, and I hope you enjoy it.
Please consider supporting us on: